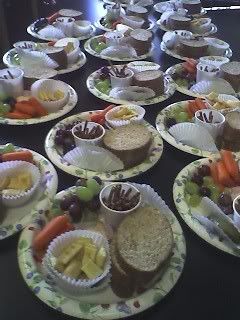 I had to laugh when I took this picture, because we have hundreds of pictures of beautiful tables set by my grandmother when she was alive, before they were destroyed...I mean, enjoyed by the beneficiaries of her gift of hospitality.
Yesterday my daughters and I made Bento in Bulk for the people who were setting up for VBS and the church staff.
We fed 30 people!
On the plates:
4 slices of wheat 'french bread' sliced for sandwiches which they put together themselves on another counter.
2 cupcake holders stacked. top = Club Puffs crackers; bottom = Annie's chocolate bunny grahams
mini carrots
fiesta ranch dip for the carrots (in the center)
purple and green grapes
a mini kosher dill
a cup of pretzels